~ Fall Seasonals ~
My favorite time of the year! All of the leaves turning gold, red, brown, the chilly Autumn nights in front of the fireplace ~ time to start thinking about the coming holidays, and making gifts for friends and family. Enjoy! Click on picture to see a larger image ~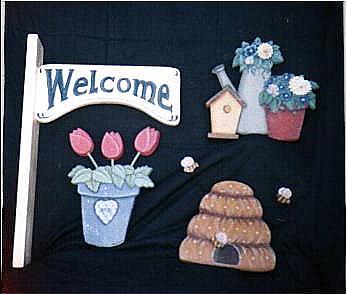 An adorable 'Welcome Sign' with 3 inserts ~ a beehive, with 3 cute buzzy little bees, a flower pot blooming with 3 Dutch tulips, and a watering can, birdhouse, and flower pot with lots of spring flowers. Seasonal inserts coming soon! The sign is 12 x 18, and the inserts measure 9 x 7.
Pattern # 125 is 7.95 + 1.00 s/h., US funds only.
---
What doorway wouldnt look wonderful with this 'Country Village' door topper? With a Candlemaker Shop, a Bed and Breakfast with a little sleeping cat curled up on the porch railing, flowers in the window boxes, all nestled in a forest of trees. This is the first in a series of 'Country Village' door toppers. It measures 10 inches high, by 30 inches long.
Pattern # 126 is 6.95 + 1.00 s/h., US funds only.
---
So you arent up to painting 3 different inserts AND a 'welcome sign'? That's okay! You can try this pattern, it comes with the sign, and your choice of beehive insert (#132),watering can , birdhouse, flower pot insert(#172), or Dutch tulip insert(#118).
Patterns are 6.95 each, +1.00 s/h., US funds only.
---
To order patterns, specify pattern number, and send check or M.O. to;
Mary Diaz
'Autumn Frost Farm'
9896 S. Shaft
Selma, Ca. 93662
Special - 3 patterns for 18.00. 1.00 s/h covers up to 3 patterns. If you are interested in wood cut-outs of the available patterns, please e-mail me.
Home
LE FastCounter